EVERYTHING YOU NEED TO KNOW ABOUT THROW BLANKETS. MOST POPULAR TYPES & SIZES
You may have heard the word "throw" used to characterize what you considered was a blanket. The term "throw blanket" or "throw" often causes confusion. Being a practical and stylish home decor item, throw blankets are serving as both a sophisticated home decor item and a comfortable cover. And while they are getting more and more popular, the exact definitions of quilts, throws, and other coverings are still up for debate! In this article, we will define what a throw blanket is and what's the difference between a throw and a blanket?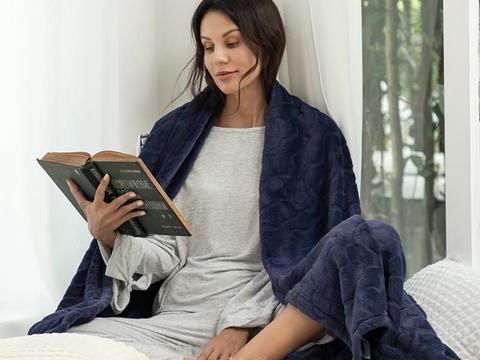 What Is A Throw Blanket?
So what is a throw blanket, and what makes it different from the rest of the home décor items that we use as covers.
1. Size Most throws are significantly smaller than regular blankets and come in 50 by 60 inches size. The general rule is that a throw blanket is not big enough to cover your entire body. Coming in a smaller size, they won't be able to cover your whole mattress but would perfectly integrate your interior design draped over a couch or armchair. At the same time, some throws deviate from the regular dimensions (usually, that should be indicated on the packaging). Some of them are a little smaller, serving more as a decoration than a warm cover. On the other hand, there are larger throws 60x80 inches big, which fulfill a decoration purpose as well, but at the same time provide generous warmth and comfort.
2. Purpose While blankets are designed to provide warmth, throws have several intended purposes and used in many different ways! Aesthetically versatile, they can be draped over your sofa, armchair, bed, and even hung on a wall. At the same time, throw blankets provide coziness, being great warm covers, and comfort if they are made from the softest and smoothest fabrics such as sherpa or fur.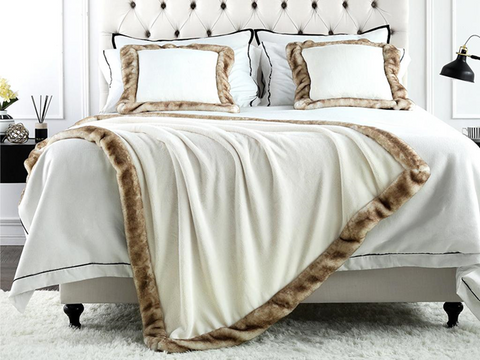 How Big Is A Throw Blanket?
We've partially covered this topic already when we were talking about the differences between a throw and a blanket. Designed to fit the bed they are named after, regular blankets come in distinct sizes (Twin, Double, Queen, etc.). Since throw blankets are not designed to fit the bed but stand out in your living room, their sizing might be tricky. As we mentioned already, the standard size of a throw is 50x60 inches; however, some throws significantly deviate from this standard. Smaller throw blankets are around 36x50 inches and designed to accent small chairs, beds, or couches or to be taken outside to provide warmth and comfort while sitting on a terrace of a nearby coffee shop on a chilly day. Middle-size throw blankets can vary from 45 by 55 to 60 by 60 inches and perform a regular throw blanket's role. Large throws would have at least 50 by 70 inches dimensions. As we mentioned before, they are designed to not only decorate your home but provide solid comfort and warmth during the cold winter days. By the way, another reason why brands provide bigger throws is to accommodate larger people. A taller person may need a bigger throw to enjoy its' warmth while snuggled in an armchair.
Types Of Throw Blankets?
Whether you are looking for a throw blanket to keep you warm and cozy in your bedroom or add a pop of style to your living room, you surely can find the one that will fit you the most due to a wide variety of throw blanket types. Different materials, colors, and designs create an unlimited variety of throw blankets. In this article, we will only focus on some of those that are starting to get popular this season.
1. Faux-Fur Throw Blankets Combining generous warmth and softness with a luxurious look and feel, Faux-Fur throws are getting more and more popular these days. Made from synthetic material, they are very easy to clean and maintain (machine wash cold in the gentle cycle is acceptable). Faux fur throws are also very durable and more affordable compared to other throws made from original fur or wool. Another huge benefit is that there were no animals harmed to create them.
2. Sherpa Throw Blankets Sherpa throws have a number of awesome benefits as well! Being extremely cozy and soft, they provide extra warmth and the ultimate level of comfort on cold winter days. If you have a Sherpa throw already or plan to buy one, definitely have a look at our article about Sherpa!
EVERYTHING YOU NEED TO KNOW TO KEEP YOUR SHERPA BLANKET SOFT, CLEAN, AND COZY (QUICK AND EASY GUIDE) (1)  
3. Popcorn Throw Blankets Dual-sided throws with Popcorn-like texture on one side and Sherpa fleece on the other are becoming more and more popular among customer., Offering the highest level of warmth and trendy colors, they an serve as an excellent decorative element in any home.
4. Fringe Throw Blankets Being a popular choice, a hand-knotted fringe on a throw blanket is designed to add details to your interior and create a more sophisticated look. It will fit perfectly on your patio on a cool summer evening, beach, or movie night.  
5. Throw Blankets Trimmed With Faux Fur Throw blankets trimmed with Faux Fur make a perfect addition to your winter season interior design creating an extremely warm and luxurious look. They fulfill your home with comfort and keep you and your loved ones cozy during the cold winter days.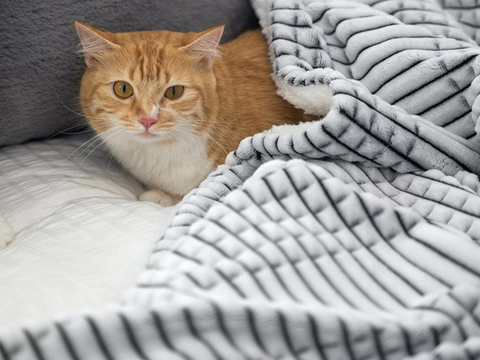 6. Ridgeline Throw Blankets Being a dual-sided throw blanket, same as the Popcorn ones, ridgeline throws offer you softness and comfort as well as a contemporary textured design. They create a modern, tasteful look and add style to your interior.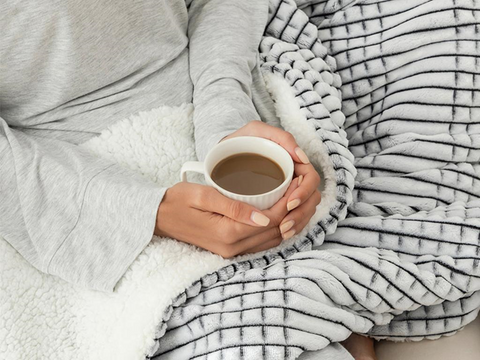 Enjoy Cozy Time!
In Cozy Bliss we deeply believe that our homes aren't just a place, but a feeling, a certain vibration in the air. Coming home is like snuggling under a warm blanket after a cold day of being outside. We create our warmest throw blankets to fulfill your home with coziness and well-being for you and your loved ones to enjoy the blissful moments of happiness after a long day.
Links:
1. https://www.cozybliss.com/blogs/blog/everything-you-need-to-know-to-keep-your-sherpa-blanket-soft-clean-and-cozy-quick-and-easy-guide
2. https://www.cozybliss.com
3. https://www.cozybliss.com/collections/throws-blankets-1
Leave a comment