11 Cozy Living Room & Bed Room Ideas For Ultimate Comfort & Relaxation

11 Cozy Living Room & Bed Room Ideas For Ultimate Comfort & Relaxation
Any of us who considers our living room as a private sanctuary to unwind, chill out and recharge can attest that whiling away the day doing absolutely nothing is an art, and it starts with setting up a super cozy living room or bedroom.
Whether you want to get most of your limited space or you want to give a more intimate, cozy vibe to your huge living room, we will help you to master the aesthetics of coziness with our 11 tips and tricks!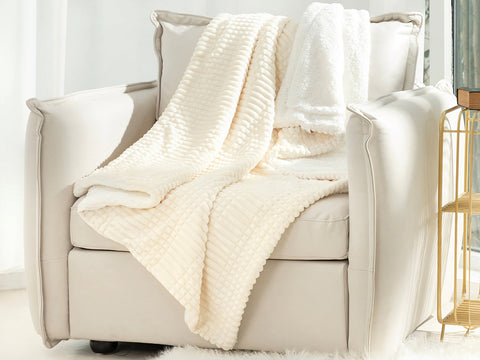 1. Go For Warm Colors And Light Hues To Make Your Space More Restful
When it comes to colors and textures, go for soothing and calm hues rather than bright pops of color.
Use warm neutrals, light to mid-tone greys, beiges, and browns to provide a peaceful (not dull) background that can be easily warmed up or cooled down with accessories throughout the seasons.
Layer faux-fur throws, quilted throw pillows, and comfy knits in neutral tones to add warmth and a soothing and welcoming feel.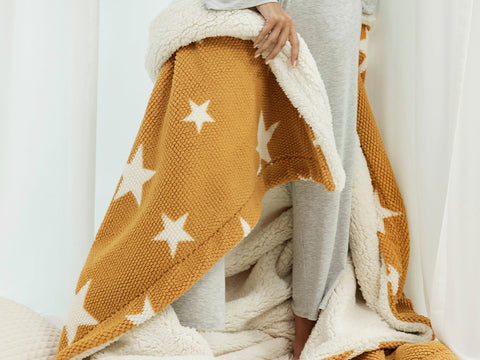 2. Incorporate Texture Beyond Standard Linens
Drape a cozy throw blanket artfully over the back of a sofa or an armchair and add some textured mix-and-match throw pillows to make your guests and yourself feel cozy. 
A delicate mix of rich textiles adds depth and interest and creates an ideal spot to curl up with a good book and a cup of aroma coffee on a coffee table nearby.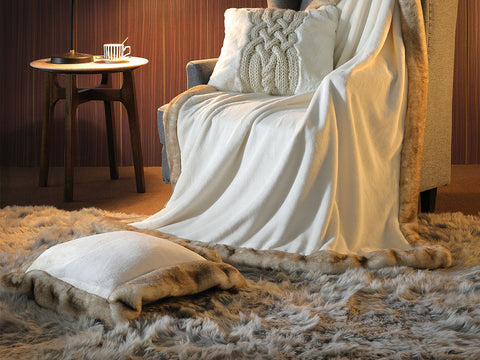 3. Layer Comfy Rugs To Warm Up The Space
Every cozy space should have an area rug. Layer rugs in different textures and shapes to create an extra-comfy look and make your first steps every morning extra-cozy and bliss.
Whether your bedroom or guest room is covered in carpet or exposed floorboards, rugs are a great way to add color, texture, and of course, warmth. If you want to add texture, go for a plusher rug. For color or visual interest, go with a patterned rug.
4. Add A Pop Of Color To Spice Up Neutrals
If blending hues and textures in various neutral tones is not enough, go for adding a pop(s) of color to spice it up. A neutral color palette adds a calming effect to any living space, but the use of bright colors will add personality and make the area more exciting and welcoming. Go for purchasing some bright throw blankets to fresh up your living room or some unique items to decorate your wall space.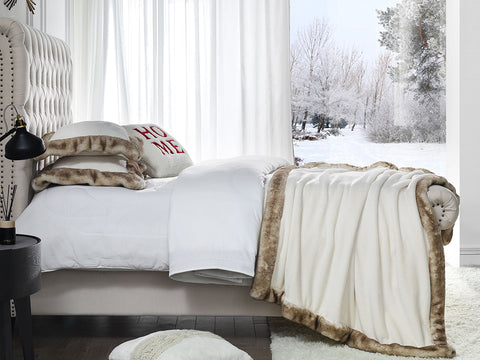 5. Add Some Privacy 
Every interior designer knows that luxurious curtains not only add an extra layer of warmth to any space but also envelop the room like a warm hug and keep out morning rays for ultra-restful sleep.
As we discussed before, the more textiles you layer, the cozier your space will feel. Floor to ceiling curtains is also a great way to lengthen a small room, making it feel larger.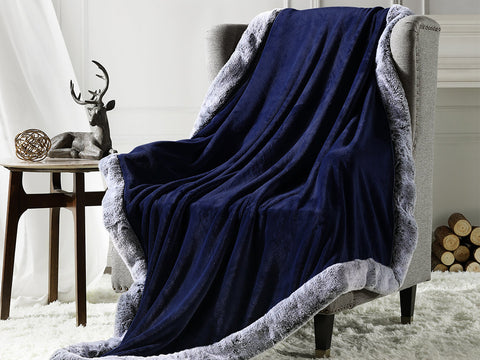 6. Try Dark Hues To Add A Warm And Luxurious Palette To Your Space
Like we mentioned before, light hues are great for making a room feel soothing and calm; a darker hue envelops the bedroom, creating the perfect space to relax and slumber. The plush bed items in this ultra-moody space add a nice contrast and look like the ideal spot to cuddle up.
Think about charcoal grey, deep plum, and rich chocolate brown to add a warm and luxurious palette to your space.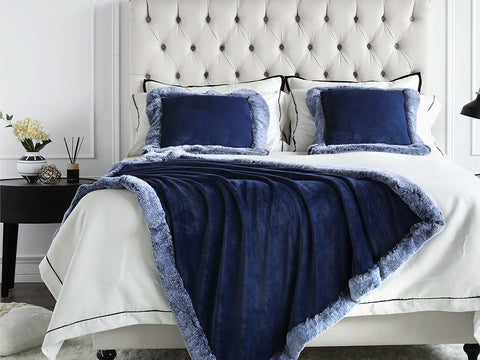 7. Set Up A Dramatic Bed
Anchor your bedroom with a stylish upholstered bed for the ultimate coziness and comfy vibe. Ad some luxurious throw blankets and pillows to complete a dramatic but cozy look. As we already mentioned, dark hues can create coziness as well, and in combination with lush textures, they fill your space with comfort and style.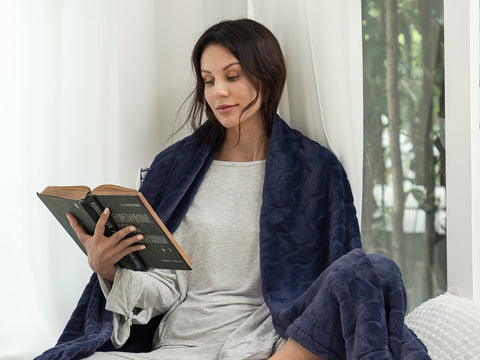 8. Natural Light For Ultimate Coziness
Natural light doesn't just cut down on the cost of electricity; it's the most powerful light you can bring into your home, as it's a healthy and natural way to enjoy the indoors. The amount of natural light filtering into your living room can't be understated when it comes to how inviting your living room is. Not to mention just about anything looks better awash in natural light. So if you are working on making your space more warm, welcoming, and cozy, definitely go for exposing your home to as much natural light as possible.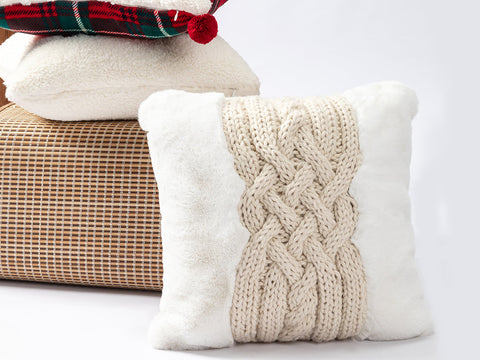 9. Incorporate Knits
Nothing is cozier than knit fabrics. Luxurious handmade cable-knit feels alluring when styled on a sofa or armchair. Besides coziness, knitted items also add romantic, intimacy, and charm. Stock up on knit throws and pillows and even use a knit duvet for ultomate comfort.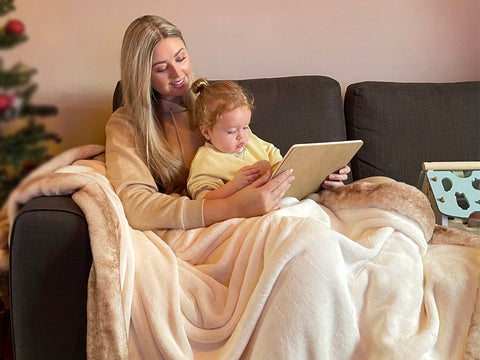 10. Add a Few Throw Blankets
Who doesn't like having a cozy throw blanket on hand to curl up with when it gets a little chilly? In addition to supplying a dose of warmth and comfort when needed, throws can provide a room with added texture and color.
If you are going for an ultimate level of coziness, add a giant, plush throw blanket trimmed with faux fur to your living room.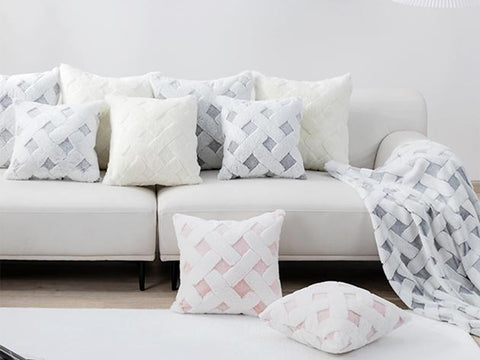 11. Pillows, Pillows, And More Pillows
To create a cozy space that would be begging you to jump right in, toss a few comfy throw pillows that are as cute as they are comfortable on your couch and armchairs. The more, the better when it comes to creating a super-comfy look. Mix and match and never be afraid to add too many.
You can also easily update the look of your throw pillows as often as you like with removable pillow covers.
After learning our cozy living room ideas, don't miss your chance to purchase the warmest and coziest home decor items from Cozy Bliss.
4 comments
What a fantastic post! This is so chock full of useful information I can't wait to dig deep and start utilizin the resources you have give me. Your exuberance is refreshing. https://www.pinterest.com/HomekitDecor/
homekitDecor
August 28, 2023
Hello! Would you mind if I share your blog with my myspace group? There's a lot of people that I think would really appreciate your content. Please let me know. Many thanks.
Paul Brown
Paul Brown
March 09, 2023
Hello, i think that i saw you visited my blog thus i came to "return the favor".I'm attempting to find things to enhance my website!I suppose its ok to use some of your ideas
HowMinute
Nora Tenorio
March 04, 2023
Let's zoom in to 'value investing strategy' that suits you the best.
Article by G Kumar, astrologer, academician &
programmer of. 'Tulip mania' refers to a tiume in the Dutch Golden Age when tthe contract prices for tulip bulbs escalated to
extraordinary heights, and then sharply collapsed.UpdateLand
Joseph Donahue
July 27, 2022
Leave a comment